Rotosound Jazz Bass 77 Long Scale Monel Flatwound Electric Bass Strings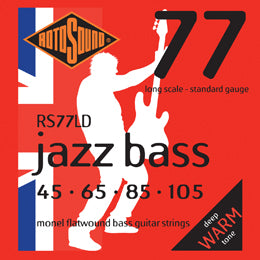 Brand: Rotosound
Rotosound Jazz Bass 77s are the Monel flatwound electric bass strings. They have been awarded a multitude of accolades since their inception.
Jazz Bass 77s  have become the favorite string with many of the world's leading artists including the likes of Oasis, Steve Harris, Roger Waters, and Herbie Flowers.
The manufacturing specifications remains a close kept secret, but the Monel 400 tape used to make the strings brings out the true character of these strings over other string makes and models.
Jazz Bass 77s continue to be manufactured the old fashioned way by hand on machines that James How built at the end of the 1960s.
All Rotosound music strings are manufactured in the United Kingdom.
The string gauges are as follows from high to low:
---
Rotosound Jazz Bass 77 Long Scale Monel Flatwound Electric Bass Strings