D'Addario Reserve Soprano Saxophone Reeds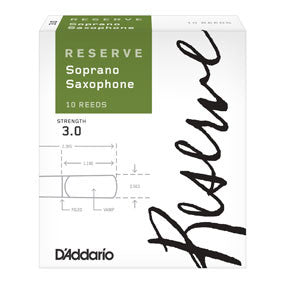 Brand: D'Addario
Reserve Classic, Rico's most revolutionary cut, is unfiled and features a narrower blank taper and more gradual tip shape, offering the most precise articulation and flexibility. The Reserve Classic reed is suited for a wide range of symphonic and solo playing styles, and has a dark sound with a wide color palette. Reserve Classic reeds are made from thick blank, lower-internode cane; lower-internode cane comes from the first four tubes of the cane stalk, yielding greater consistency from reed to reed.
Gradual tip shape, adding more tonal warmth; traditional tip thickness for a quick articulation
Special cane treatment process that helps reduce reed warping. Like the Reserve line, uses only the densest, lower-internode cane for longer durability and consistency
NEED TO ORDER A LARGER OR SMALLER SIZE THAN LISTED? Please call 330-673-1525 and ask for the Band Department.
---
D'Addario Reserve Soprano Saxophone Reeds