Monette Silver Series Bb Trumpet Mouthpiece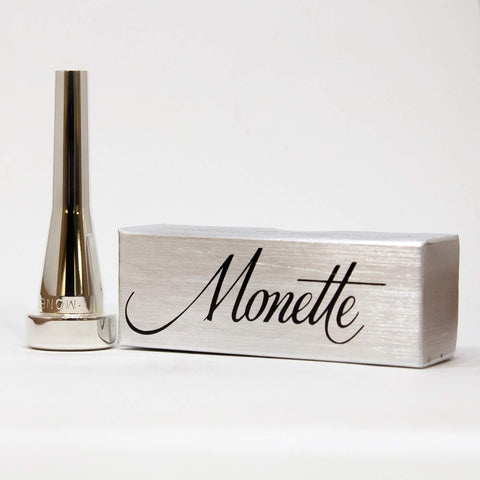 Brand: Monette
These silver plated production mouthpieces are the most economical mouthpieces Monette has ever made. They are available in the four most popular rim sizes, and offer a huge improvement over any conventional mouthpiece. Put one of these in virtually any brand of trumpet - even C, D and Eb trumpets.
All Monette silver mouthpieces are made LT (lightweight) blank, and are designed to work well on virtually any brand of trumpet. The rim contours are nearly identical on all four sizes, and are based on the incredibly popular B6S1 and B2S3 rim and cup contours.
These mouthpieces are perfect for people who are new to Monette mouthpieces
Monette 6 - This compares to the common 3C size. It is the exact same rim and cup as the Monette B6S1, which is great for pros who need an all-around mouthpiece, first time students, come-back players and anyone using a conventional 7C, 5C or 3C mouthpiece.
Monette 4 - This compares to the 1 1/2C size, and is a great step up for people who are beginning to outgrow or over-blow the smaller Monette 6. The rim and cup are based on the B2S3, and it's a great mouthpiece for all around playing.
Monette 2 - The Monette 2 has the exact same rim diameter and cup as the incredibly popular B2S3, and it compares to an old fashioned 1 1/4C. This mouthpiece is great for more advanced players who are used to a larger mouthpiece and looking for a bigger sound and easier upper register, along with a very noticeable boost in intonation.
Monette 1 - The largest mouthpiece in the Silver series is the Monette 1. It has the same rim contour as the Monette 2, but with a larger diameter. It compares to an old fashioned 1C mouthpiece, and is very well liked by orchestral players. For strong, advanced players looking for a bigger sound, or anyone who is more comfortable on larger mouthpieces, this is a great choice with a much easier upper register than conventional large diameter mouthpieces.
---
Monette Silver Series Bb Trumpet Mouthpiece