Maxon OD-9 PRO+ Plus Overdrive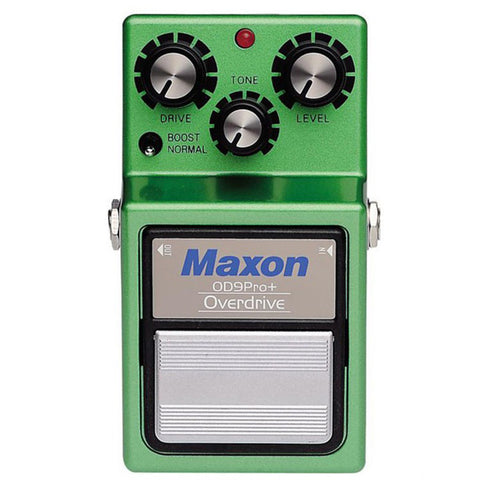 Brand: Maxon
The Maxon OD9 Pro Plus Overdrive Pedal may look just like your old favorite, but that's where the similarities end. With improved circuitry, the OD9 overdrive stands at the forefront of the Nine Series effects evolution.
The OD9 overdrive pedal uses a signal-distorting diode (Panasonic #MA150) that is located in the amplifier stage's negative feedback loop (this stage also contains the JRC4558 IC chip). Therefore, the OD-9 pedal distorts the signal in the amplifier section itself, which yields a smoother, milder, more natural sounding distortion than a separate clipping stage. This is also the reason that the IC type used in the circuit has such a large impact on the unit's tone. Maxon developed this unique design more than 20 years ago, an industry first that is commonplace today.
The OD-9 Pro Plus's new circuit uses different output resistors than its predecessor. After the unit's initial release it was discovered to have a high susceptibility to noise due to static electricity buildup. To improve performance, the values of the output resistors on the OD-9 were increased, but their positions kept the same as the original. This circuit change has no audible affect on the sound of the unit, save for reducing unwanted noise levels. In addition, the OD-9 features True Bypass Switching for natural, uncompromised tone in bypass.
Like the OD808, the OD-9 provides the natural, mild overdrive of a tube amp without sacrificing the guitar's original tone. It can also be used as a clean booster to provide increased gain from an amplifier.
The Power of Nine
Since their introduction in the early 1980s, Maxon Nine Series designs have achieved a legendary status with pedal connoisseurs around the globe. The reasons for this are simple - superior sound quality and innovative features that offer a seamless interface between performer and performance. 20 years later this rule still holds true. Now available with improved circuitry including JRC4558 IC chips and True Bypass Switching, Maxon Nine Series effects remain the standard by which all others are judged.
True Bypass Switching Mechanical true bypass switching allows your signal to pass through a non-electronic bypass line when the effect is disengaged, feeding your amp with direct unaltered signal from your instrument.
Die Cast Zinc Chassis Ergonomic design protects controls while providing easy switching access. Rubber bottom pad prevents accidental movement while in use.
Easy-Access, No Tools Battery Compartment Allows for quick replacement of 9-volt battery.
AC/DC Power Operation Power using 9-volt battery (supplied) or AC adapter (Maxon AC210N optional).
LED Power/Battery Life Indicator Ultra bright LED indicates effect status (on/off). Dim or no LED indicates that the battery is low or not installed.
3-Year Warranty Godlyke Inc. guarantees to replace or repair (at their option) this product should it suffer from defects in materials or workmanship. Coverage period is one year for moving parts (example: pots, switches, jacks) and three years for non-moving parts (example: IC's, transistors, etc.).
Damages caused by accident, abuse, alteration, or misuse are not covered by this warranty. Product appearance and normal "wear and tear" (worn paint, scratches, etc.) are not covered by this warranty.
No other warranty is expressed or implied.
---
Maxon OD-9 PRO+ Plus Overdrive