Ibanez NTS Nu Tube Screamer Overdrive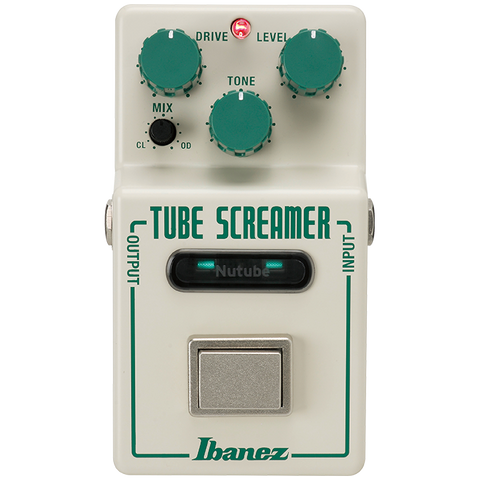 Brand: Ibanez
NuTube technology in a pedal! And you can run it at 18v if you choose. This is awesome!
The Ibanez NU TUBESCREAMER is the very first compact guitar effects pedals to incorporate a Nutube directly into its circuitry. This pairing of Ibanez's Tube Screamer with KORG's Nutube technology, has produced an overdrive with exceptional dynamics, improved sensitivity, and natural tube compression.

*KORG and Nutube are trademarks of KORG INC.

•Controls: Drive, Tone, Level, Mix
•Size: 71(W) x 124(D) x 53(H)(mm)
•Power Supply: DC9-18V (Negative Center) or one 006P 9V battery
•Current Draw: 50mA@9V, 60mA@18V
•Development collaboration with KORG Nutube
•100% Analog circuitry
•Relay True Bypass Switch
•Made in Japan
Nutube is a revolutionary vacuum tube developed by KORG Inc. and Noritake Itron Corp. Mr. Fumio Mieda, developer of many early well-known KORG products including the MS-20 and more, came up with an idea to use the VFD technology to develop an innovative vacuum tube. He then approached Noritake Itron Corp. who are considered the pioneers of VFD technology, to co-develop the tube with KORG. Together, they built hundreds of samples and eventually perfected Nutube, which optimally works as a preamp tube for audio signal amplification.
Because Nutube is utilizing the VFD technology, it has an extremely low power consumption, which is about 2% of a 12AX7. As a result, it works at very low voltages and has a life span exceeding 30,000 hours.
---
Ibanez NTS Nu Tube Screamer Overdrive