Fishman TriplePlay Wireless Guitar Controller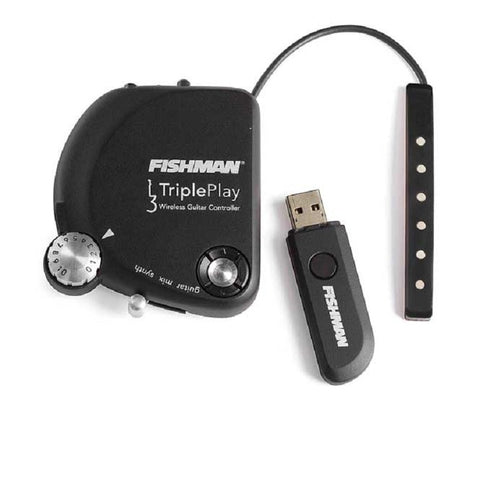 Brand: Fishman
 This thing is pretty wild! It is a wireless MIDI controller which allows you to control virtual instruments and a whole slew of other software.
 Perform with virtual instruments via wireless MIDI
You can use your favorite electric guitar to play virtual instruments on your computer with the Fishman TriplePlay. You can even use the included software to set up splits on your fretboard, for example, making your lower strings play a piano patch while your higher strings play a flute patch. You no longer have to use complicated multi-pin cables and converter boxes to control MIDI instruments with your guitar!

Compose easily with standard notation or tablature
Because the Fishman TriplePlay sends standard MIDI messages, it's ready to record accurate notation into your favorite composition software. You even get a free copy of Notion Music's Progression 2 composing software to start with. Whether you're scoring for film or sharing new music with your band mates, the Fishman TriplePlay makes it easier than ever.

Record MIDI wirelessly into your computer
Wireless technology isn't just great for stage use, it's amazingly convenient in your studio as well! You can record MIDI wirelessly, into your DAW of choice.
Complete Software Suite Included
TriplePlay comes complete with all the software you_"Žll need for recording, editing and playing back your music. Take full advantage of powerful MIDI features with your guitar. With the easy and blazingly fast note encoding, preset editor and mixing console, you_"Žll be mixing your own music in no time. Includes full versions of:
Native Instruments _"_ KOMPLETE Elements and GuitarRig LE
Notion Music _"_ PROGRESSION 2
IK Multimedia _"_ SampleTank 2 XT and AmpliTube Custom Shop
PreSonus _"_ Studio One Artist TriplePlay Edition
---
Fishman TriplePlay Wireless Guitar Controller