Earthquaker Devices Afterneath Reverb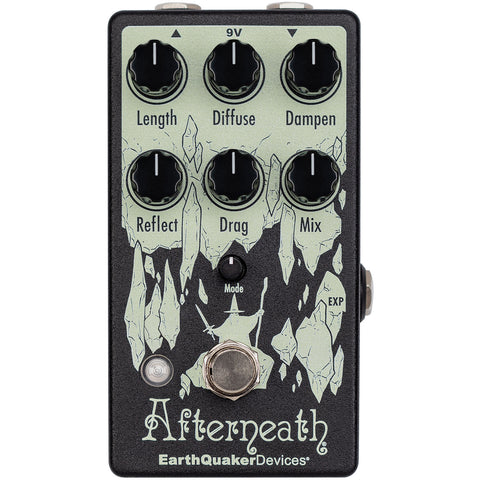 Brand: Earthquaker Devices
The Afterneath sounds a lot like it looks – a wizard bursting forth from ethereal cave and ready for the ambient battle. You are the wizard – or sorceress, if you prefer – and the cave is your instrument's signal, vast, expansive, and magical.
Controls
Length: Controls the decay length of the reverb.
Diffuse: Adjusts the spread of the reverb. Sharper with more attack counter clockwise, more ambient and washy as you turn it clockwise.
Dampen: Clockwise for brighter tones, counter clockwise for darker tones.
Drag: This digital reverb is made up of a bunch of short delays, this separates the delay lines creating a stuttering, pingy effect. This is the coolest control on the Afterneath, we highly advise slowly turning this while you let notes ring out for a cool warped speed effect. More delay as you turn it counter clockwise, more reverb as you turn it clockwise.
Reflect: Controls the regeneration of the reverb, turn clockwise for more wash and echos, counterclockwise for less. This will self oscillate if turned up high.
Mix: Blends the wet signal into the dry. Though it does not actually go full wet, it will gradually lower the clean level as you turn it clockwise and give the appearance of full wet.
Modes
1. Unquantized: Smooth, unquantized response over the operating range
2. Unquantized with Slew: Smooth, unquantized response over the entire operating range, but with a musical slew that is reminiscent of turning the varispeed knob on a vintage British tape delay. The "Drag" will lag behind the knob or cv changes, but then quickly catch up.
3. Unquantized Volt/Octave: Smooth and unquantized, yet scaled to align with the 1v/octave curve to allow melodic modulation of audio in the buffer, or control the frequency of self-oscillation like a voltage controlled oscillator.

4. Chromatic Scale: Quantized 1v/octave to the chromatic scale

5. Minor Scale: Quantized 1v/octave to the minor scale

6. Major Scale (Lydian): Quantized 1v/octave to the major scale (Lydian)

7. Pentatonic Scale: Quantized 1v/octave to the pentatonic scale

8. Octaves & Fifths: Quantized 1v/octave to omit all but octaves and fifths

9. Octaves: Quantized 1v/octave to omit all but octaves
---
Earthquaker Devices Afterneath Reverb