D'Addario Select Jazz Filed Baritone Saxophone Reeds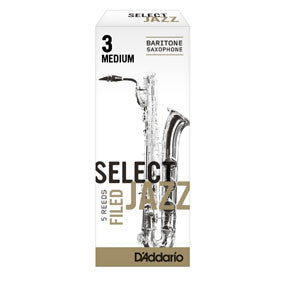 Brand: D'Addario
The D'Addario Select Jazz reed is made from the thickest spine and blank of the D'Addario reed line. With its traditional tip shape, the Select Jazz offers a player with a focused, controlled, vibrant, and projecting sound.
- Available in both filed and unfiled
- Strengths are split up into thirds to provide the player with the most precise fit for them.
*Old Boxed Rico Jazz Select Reeds are also available!*
NEED TO ORDER A LARGER OR SMALLER SIZE THAN LISTED? Please call 330-673-1525 and ask for the Band Department.
---
D'Addario Select Jazz Filed Baritone Saxophone Reeds