Alexander Superial Tenor Saxophone Reeds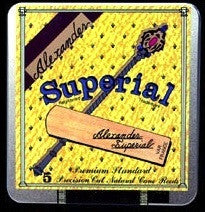 Brand: Alexander
The original reed produced from the great Alexander Reeds company. Developed only after my years of research and testing, the Superial reed helps a player produce a warm projecting sound that has a resonant buzz. The reed also provides evenness throughout the scale and a wide dynamic range.
With a concept for an American style single reed in mind the team at Alexander created a piece with a more developed heart and vamp that produce a large sound. This reed is free blowing and capable of quick, accurate articulation.
NEED TO ORDER A LARGER OR SMALLER SIZE THAN LISTED? Please call 330-673-1525 and ask for the Band Department.
---
Alexander Superial Tenor Saxophone Reeds