Alexander Superial "DC" Baritone Saxophone Reeds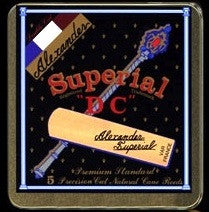 Brand: Alexander
The "DC" or "Double Cut" Superial reed from Alexander Reeds uses the same can as its Superial counterpart. With a slightly harder tip, heart, and sides, the DC is able to produce an enhanced powerful projection with a darker timbre and a solid tonal core.
Great for soloist and lead work, the DC read was inspired by the saxophone greats of the 1950s through the Blue Note, Miles, Trane, and Wayne eras. The increased power of the reed is also great for Big Band players.
NEED TO ORDER A LARGER OR SMALLER SIZE THAN LISTED? Please call 330-673-1525 and ask for the Band Department.
---
Alexander Superial "DC" Baritone Saxophone Reeds