Adams Academy Series 3.5 Octave Xylophone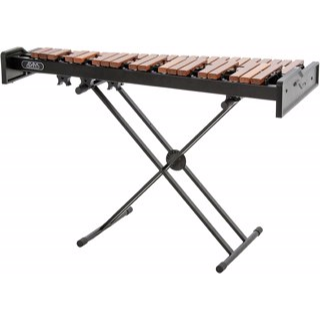 Brand: Adams
The Adams Academy series xylophone is designed to bring accessibility and quality to the youngest percussionists. The 3.5 octave Academy xylophone is perfect for school or home use.
The Adams Academy series xylophone features Pau Rosa bars for a fantastic bright tone, as well as the patent-pending 'Integrated Resonator Rail System' that provides not only a quality bar suspension and box resonator format, but also the rigid aluminum beam structure that makes Academy the most durable instruments on the market.
Academy series keyboards can be used either on a tabletop or with the double leg, X-style stand included with each instrument. The stand fits securely into one of three incremental slots to ensure stability while allowing the instrument to fit any size player. It's simple yet ergonomic lightweight design lends itself for easy storage and set-up.
Specifications
Keyboard: Pau Rosa
Bar width: 38.5 mm
Range: F4 – C8
Tuning: A = 442 Hz
Length: 131 cm
Low end: 58 cm
High End: 50 cm
Weight: 25 kg (w/ Stand)
Frame: Adams adjustable X stand
---
PLEASE NOTE: Currently this product is not available for purchase online. Please call to order: 1-800-468-1525
---
To add this product to your wish list you must Sign In or Create an Account.
---
---
Adams Academy Series 3.5 Octave Xylophone